18/06/11 – Useless Birthday Party – w/ VJ SPAZM
Useless & La Machine du Moulin Rouge présentent
USELESS III Y/O BIRTHDAY PARTY
Samedi 18 Juin / De 23h à 5h
15€ sur place / 12€ en prévente
La Machine du Moulin Rouge.
90 Boulevard de Clichy
PARIS
Depuis 2008, les soirées Useless rendent moins inutile la nuit à Paris…
En l'espace de 3 ans, Useless a accompagné une dizaine d'artistes qui de newcomer sont passés au stade d'icônes (Breakbot, DatA, Young Gunz, Club Cheval…). Mais des artistes confirmés tels que Arnaud Rebotini ou bien encore Zombie Nation se sont aussi frottés à ces soirées. Afin de fêter dignement cet anniversaire, La Machine du Moulin Rouge nous ouvre ses portes pour 6 heures de fête sur 3 dancefloors avec pas moins de 15 artistes, déjà conviés à une Useless ou désireux de venir fêter l'événement. Un "Back to the future" nécessaire et attendu.
SPAZM (tcheaz) sera en VJ sur le plateau central.
line up et flyer dans la suite :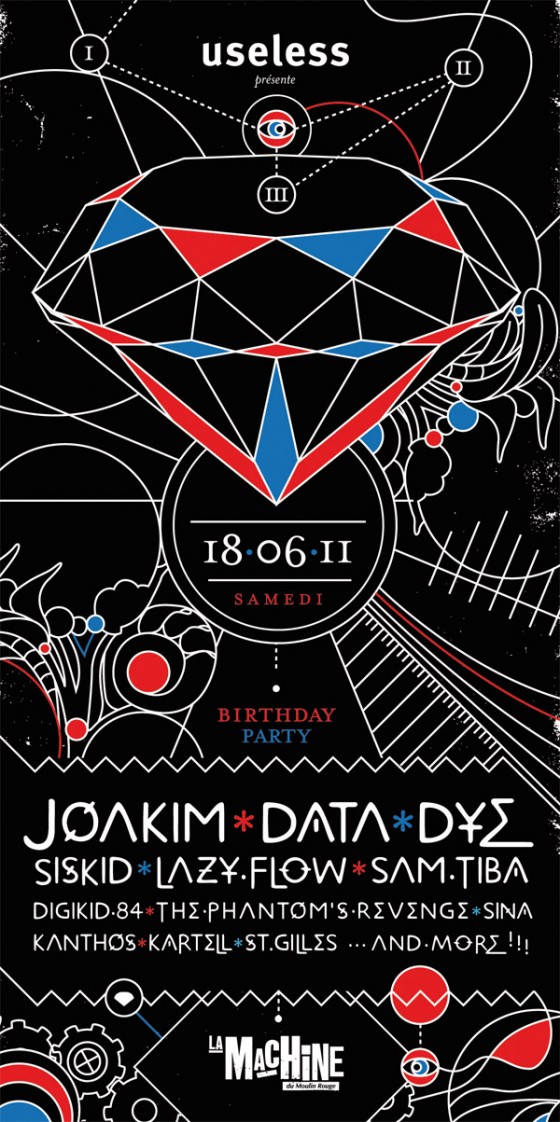 • LINE UP •
Floor 1 (Central)
• Joakim (Tigersushi)
• DyE (Live / Tigersushi)
• Siskid (Meant)
• Eric Labbé (Elegangz)
• St Gilles (Soultronik)
• Second Guesser (Useless)
• Zimmer (Discotexas)

Floor 2 (Chaufferie)
• DatA (Ekler'o'shock)
• Sam Tiba (Club Cheval)
• Lazy Flow (Young gunz)
• Digikid 84 (Young gunz)
• Sina (Le Mickey Club)
• Kanthos (FTW)
Floor 3 (Bar)
• The Phantom's Revenge (Valigetta)
• Kartell (Shiny Disco Club)
• Cezaire (Zappruder)
﹏﹏﹏﹏﹏﹏﹏﹏﹏﹏﹏﹏﹏﹏﹏﹏﹏﹏﹏﹏﹏﹏﹏﹏﹏﹏﹏﹏﹏﹏﹏﹏﹏
✭ VJ / PHOTOS ✭
• SPAZM VJ http://cargocollective.com/spazm#162821/V-J
• MARTINI http://martinlagardere.carbonmade.com/
﹏﹏﹏﹏﹏﹏﹏﹏﹏﹏﹏﹏﹏﹏﹏﹏﹏﹏﹏﹏﹏﹏﹏﹏﹏﹏﹏﹏﹏﹏﹏﹏﹏
✖ DIGITICK ✖
http://www.digitick.com/useless-3rd-birthday-soiree-electro-la-machine-paris-18-juin-2011-css4-digitick-pg101-ri859343.html
﹏﹏﹏﹏﹏﹏﹏﹏﹏﹏﹏﹏﹏﹏﹏﹏﹏﹏﹏﹏﹏﹏﹏﹏﹏﹏﹏﹏﹏﹏﹏﹏﹏

♥ PARTENAIRES ♥
• WAD
• GOURU
• 90 BPM
• TRAX
• A NOUS PARIS
• BRAIN MAG
• STREET-TEASE
• FTW
• TRIANGLE MAGAZINE
• WATM
• LECOOL
• FLUCTUAT
• A-BLOK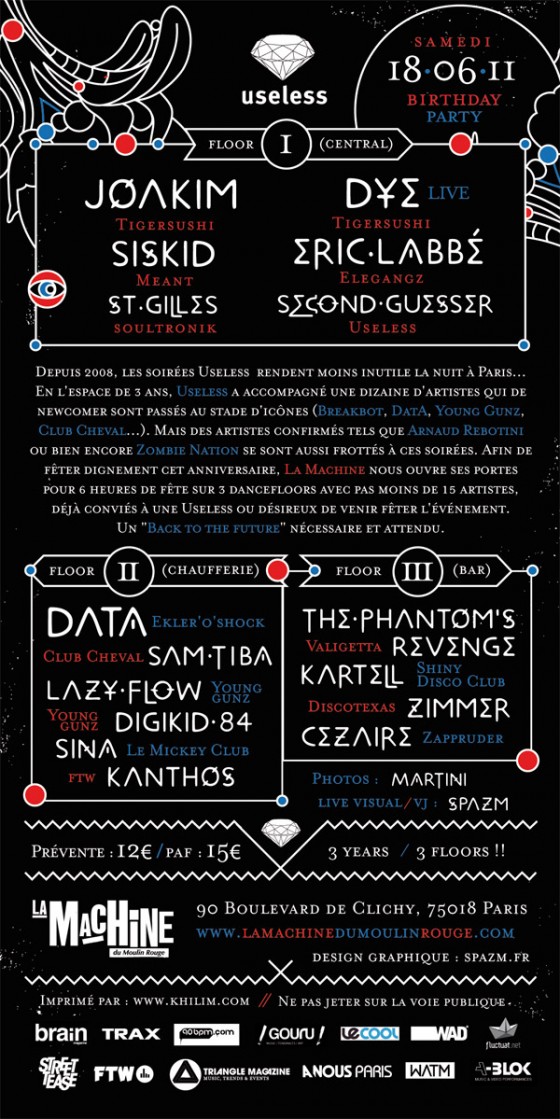 flyer design : spazm
http://www.uselessparty.com/ pour plus d'infos